The Vermont Pure CBD Catalog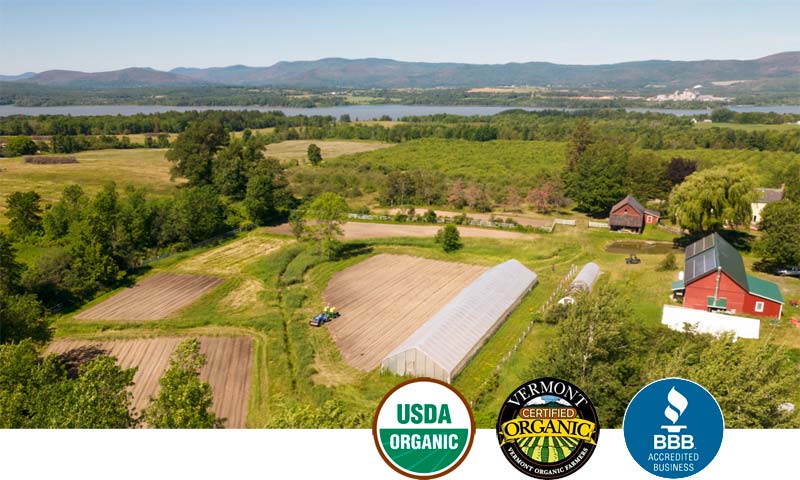 Unlike other CBD companies, Vermont Pure CBD maintains complete oversight of our entire production process. From seed to shelf, we do it all! We select the finest natural hemp genetic seed material and grow them to maturity ourselves using strictly organic methods. After harvest, our hemp is carefully cured in our own barns and never exposed to heat or other processes that diminish the quality of the flower. We use only hemp grown with care on our farm in Shoreham, Vermont, and extract only in our solar-powered production facility using certified organic ethanol. The ethanol extraction and oil refinement processes we use allows us to create products containing top-tier 100% active (decarboxylated) Full-Spectrum CBD oil which includes the hundreds of other synergistic compounds in the hemp plant. We make all our products by hand in house, or, in the case of our dog biscuits and chocolate bars, in collaboration with local Vermont producers who are as devoted to artisan quality as we are.
The care we take and the methods we use set us apart from other CBD companies that may acquire hemp from unverified sources. Our process is vertically integrated and allows us to provide our customers with a premium single-origin product that meets the highest standards in the industry. We test our products with our own spectrometer every step of the way and provide ISO certified third-party testing for all our products as a measure of authenticity.
Learn more about about our values on our about us page.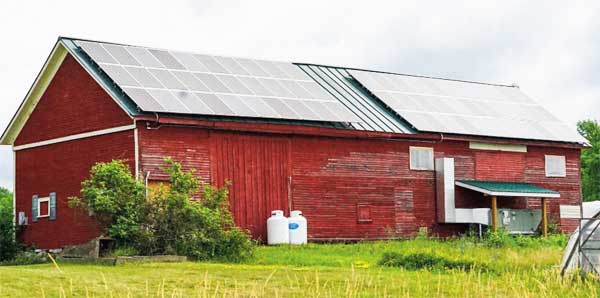 Our production facility has six 285 watt solar panels on the roof, which produce about 22,630 hours of clean energy per year. This helps offset the majority of our power consumption, and will offset 678,000 pounds of carbon in its life cycle. This makes our farm carbon negative! This is our small contribution to fighting climate change.
On the Vermont Pure CBD Farm we operate on a small scale. From farming, harvesting, processing, and extracting to product production, customer service and even shipping. Our small team supervises every aspect of our operation.
Keeping it small helps ensure that our strict standards are never compromised in any fashion. Quality over quantity, tried and true. You are, and will always be our number one priority!
Seth Lapidow, our Legal Advisor, and Customer Service is the friendly face behind all your inquiries. Born and raised in Vermont, he practiced law in New York and New Jersey for 35 years before purchasing the farm in 2014.
Jon Namanworth (Farmer Jon) is our Operations Manager, Product Research and Development, and Website Administrator. With over 10 years of diversified growing experience and a Bachelor Degree in Plant Breeding & Genetics. His passion and personal experience in agricultural and laboratory sciences built the foundation necessary for the success of our products today.
Ken Kadar heads up extraction and production in the lab. Every product made passes through his hands and expert inspection. He also manages our flagship store location Vermont Pure Essentials.
David Anderson is our all around handyman and vendor for farmers markets and events. His enthusiasm for CBD is unrivaled and his experience in the trades keeps our equipment running smoothly.
The Vermont Pure CBD Store
Our flagship store is located in downtown Vergennes, Vermont. All of our CBD products, and more are available here. Our knowledgeable staff are always available to guide visitors to the best CBD option for them or their pets.
Click here for store location and hours.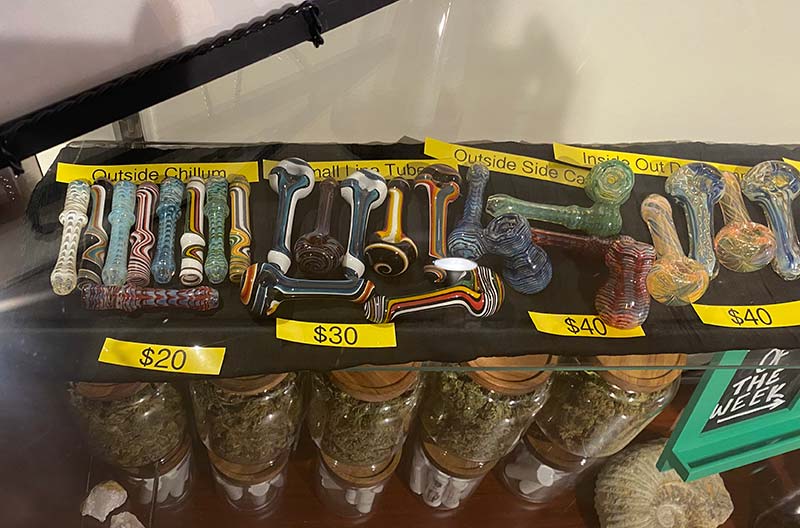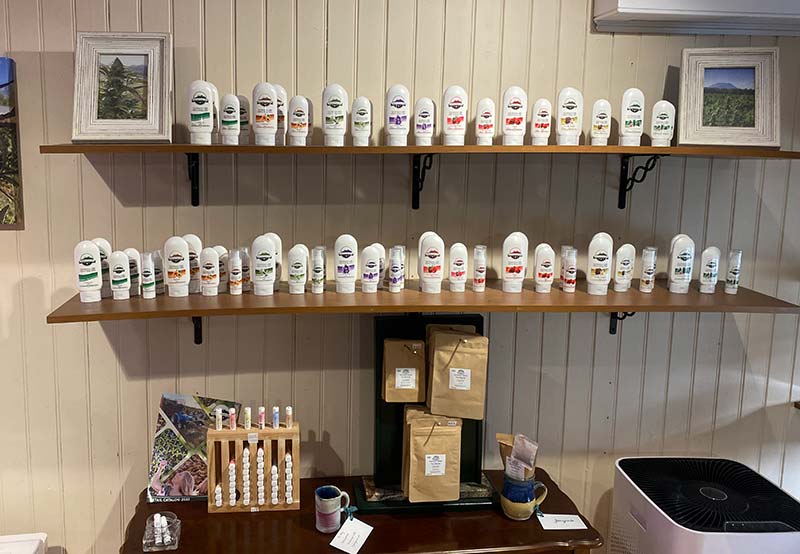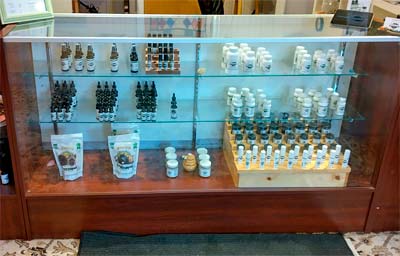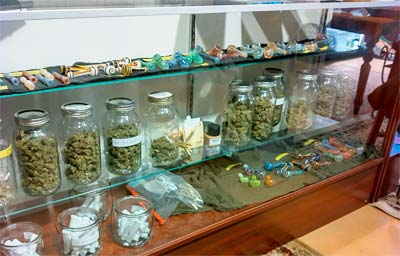 Internal Products: Tinctures and capsules are taken orally and generally take 30 to 60 minutes to take effect. Once digested, effects are long lasting, remaining in the system for 6 – 8 hours. With tinctures, bio-availability is highest when taken under the tongue allowing access to the sub-lingual vein and mucus membranes for rapid entrance into the bloodstream. Capsules are swallowed and enter the bloodstream through the digestive tract. Capsules provide precise and consistent dosing which is helpful for long term applications which require a consistent level of CBD in the system.
Topical Products: Salves and roll-ons are applied to the skin for localized trans-dermal effect. It acts in as little as 15 minutes and lasts 2 – 4 hours. They are useful for issues within one inch of the surface of the skin. Deeper penetration does not occur.
CBD Products And Drug Tests
Although Full-Spectrum CBD products contain 0.3% or less of the psychoactive compound, tetrahydrocannabinol (THC), it is possible for Full-Spectrum Products to trigger a positive result on a drug test. This possibility may increase with prolonged use, as cannabinoids are stored in the body and compound over time.
Storing CBD
While our products do not require refrigeration, we recommend storing your CBD oil in a cool dry place and out of direct sunlight. Make sure to shake well before each use (for tinctures) and that the cap is sealed airtight after using. Refrigeration is not necessary but may prolong shelf life.
All CBD products should be labeled clearly. There are however many products that may be labeled in a misleading way. Several examples might include THC products labeled in a shady manor or "hemp oil" products masquerading as CBD – hemp oil and CBD are NOT the same thing.
We strongly encourage you to read our blog post about CBD labels for more info and what to look out for. Click here to read. Below is the breakdown of our label to help you understand what the heck is going on.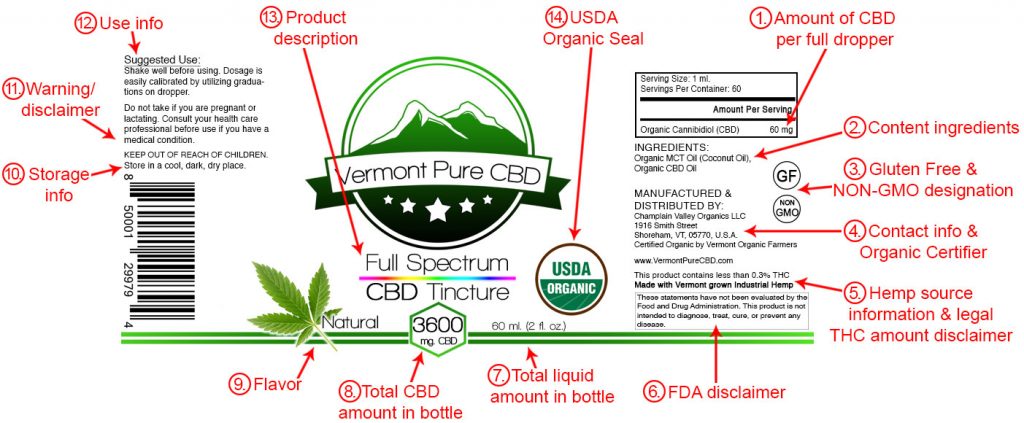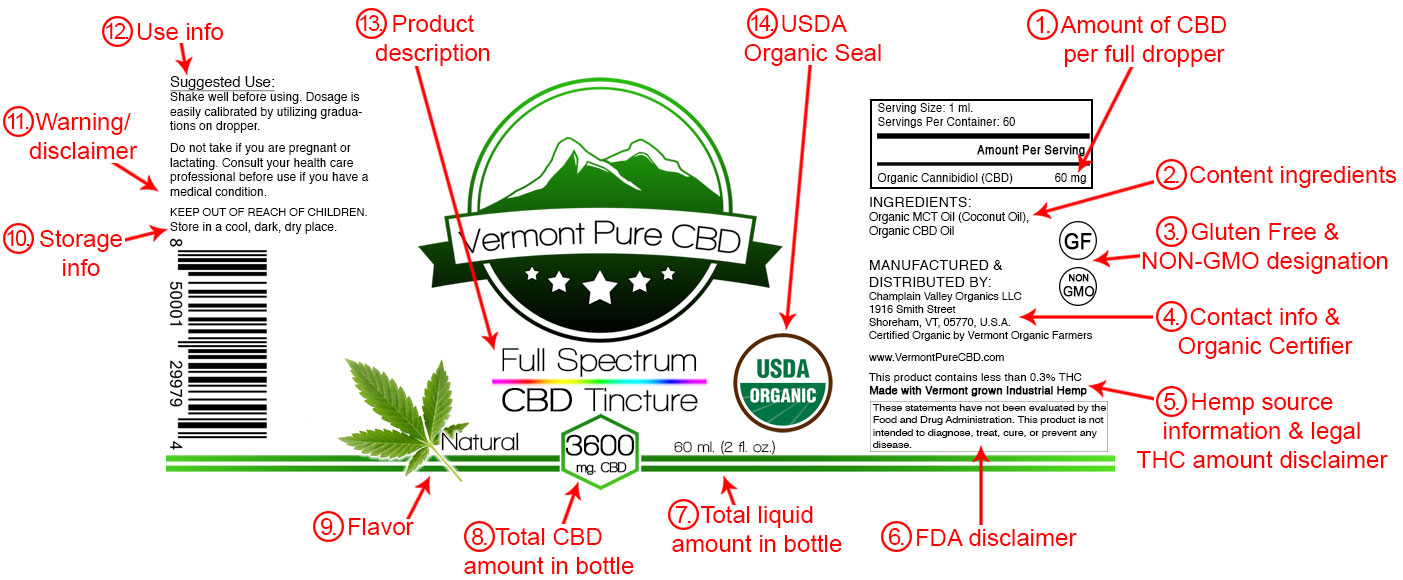 1. This box designates the amount of CBD in milligrams per serving. It also shows how many serving are in the product. In the case of tinctures one serving is a full dropper or one milliliter of tincture.
2. Ingredients in the product.
3. Gluten Free and Non-GMO insignia. Badge of quality and assurance.
4. Manufacturer/Producer full contact information. All USDA Certified Organic products must designate the certifying agency on the product label.
5. Industrial Hemp and THC compliance statement.
6. Mandatory FDA disclaimer – the same as on all vitamin labels for example.
7. Amount of product in bottle – all of our products show amount of product in the container .
8. Total CBD Amount designates the total amount of CBD in the bottle – all of our products show the total amount of CBD in the container directly below our logo.
9. Flavor of product (or Scent for our topical CBD products) is on the left side of our logo.
10. Pertinent storage information. Keep out of direct sunlight and keep caps/lids closed when not in use.
11. Usage disclaimer.
12. Usage information. No CBD company is legally allowed to make specific claims regarding dosage amounts or effects of products. If you see a product on the market that does, they are in direct violation of federal law. We can direct you on how to take a product, but not how much to take or any guarantees of its efficacy
13. Below our logo you'll find the description of what the product is.
Vermont Pure CBD sources all of our ingredients with sustainability and our customers in mind. This means sourcing ingredients that are produced naturally and with organic certifications whenever possible. Additionally, we also prefer sourcing ingredients and collaborating locally to support Vermont businesses whenever possible.
MCT OIL FROM COCONUT
MCT, or Medium-Chain Triglycerides, are fatty acids fractionated from raw coconut oil by applying heat. MCT oil is often used in the health industry for its many reported benefits, including promoting weight loss, reducing lactic buildup, fighting bacterial and yeast growth, and maintaining blood sugar levels. Topical applications are also known to produce anti-inflammatory, anti-bacterial, antioxidant, and skin barrier repair effects. Used in CBD products they have many positive effects including increased absorption (bioavailability), and increased shelf stability. Read about why we use MCT oil in our blog post.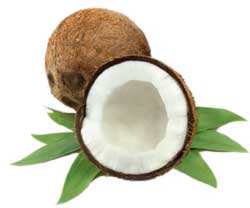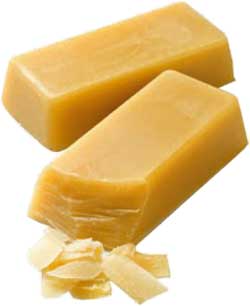 BEESWAX
Beeswax is a base ingredient in our salves and balms. The consistency of beeswax acts as a protective barrier for the skin blocking irritants while still allowing pores to breathe. Beeswax also has anti-inflammatory, anti-bacterial, and antiviral properties which calm the skin, keep it clear and bacteria free, heal wounds and fight infection. We are proud to say that we source all of our beeswax locally from Champlain Valley Apiaries.

ARNICA
Arnica comes from the perennial flower Arnica Montana which grows naturally in the mountains of Europe and Siberia. Salves and ointments made from the flowers are often used to relieve muscle soreness, bruising, and help reduce inflammation. Historically, Arnica has been used for centuries as an herbal medicine. Clinical studies show that the primary active ingredients in this flower are helenalin and other sesquiterpene lactones.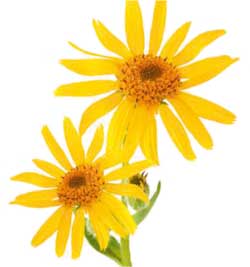 SCENTS AND FLAVORS
With product quality and our customers in mind we do our best to source scents and flavors that are naturally extracted. Orange Flavor, Peppermint and Arnica are all USDA Certified Organic. Lavender, Eucalyptus, Wintergreen, Camphor, Pine, and Lemon are all natural pure extracts. Some Scents cannot be obtained naturally as is the case with Blueberry, Cherry, Chocolate, Strawberry/Cheesecake, Vanilla, Rose, Lilac, Wisteria, Lemon (Lip Balm), and Pomegranate are synthetic.

CBD OIL
True Full Spectrum CBD Oil is the result of extracting compounds from the hemp material grown here on the farm. The end product is CBD crude oil which is decarboxilated and added to all of our products. At the end of the catalog we cover our extraction process in more detail.
WHAT IS DECARBOXYLATION?
The Hemp plant predominantly produces the acidic forms of cannabinoids during its growth. These include CBD-A, THC-A, and CBG-A (the "A" indicates that they are in acidic form-having carbon dioxide). However over time with exposure to the natural elements these acidic forms convert to their more bio-available and active states, CBD, THC, and CBC. In the lab we replicate this process by applying gentle heat to our Full Spectrum Crude Oil to make our end products as effective as possible.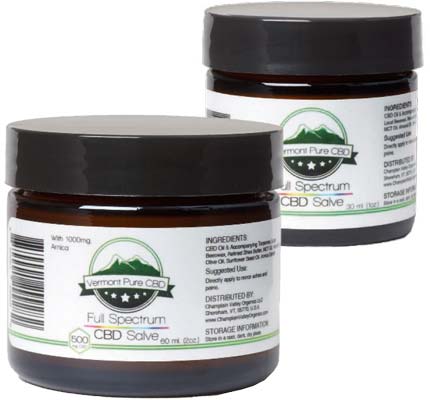 Our True Full Spectrum Salve was the first product that we developed at Vermont Pure CBD. Our silky topical balm is hand made with all natural ingredients. We combine almond oil, local Vermont beeswax, coconut oil, shea butter, a little olive oil, and our Full-Spectrum active CBD.

We offer our salve in a wide variety of sizes, strengths and scents. Our salves come in 1 Oz. and 2 Oz. glass jars, and are available in 250mg, 500mg, and 1000mg strengths. Each Concentration is also available with Arnica as an additional treatment. All natural extracts are used in the scents selected for all our salves.
Shop our salves here

Four scent options available:
Natural (unscented)
Lavender
Eucalyptus
Wintergreen, Camphor, Pine (WCP)
Base Ingredients:
Our Full Spectrum active CBD oil
Local Beeswax
Refined Shea Butter
MCT Oil
Almond Oil
Olive Oil
Scent Ingredients:
Pure Lavender Essential Oil
Pure Eucalyptus Essential Oil
Pure Wintergreen Essential Oil
Pure Camphor Essential Oil
Pure Pine Essential Oil
EXTRA STRENGTH
By customer demand, we have created Extra Strength Topical options for all our salves. The Extra Strength options are twice the CBD concentration of our original offerings.
Click here to take a look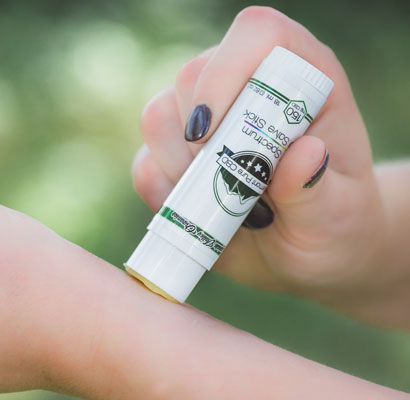 These Salve/Balm sticks use our same trusted salve formula in a convenient alternative applicator. Each stick is 18 ml (0.62 oz.) – containing either 150mg or 300mg of our Full-Spectrum active CBD oil with the option of 300mg of USDA Certified Organic Arnica Extract.
Customers love our CBD twist-up sticks because they are portable and simple to use. As with our traditional salve, our twist-up sticks come in four all natural aromatic options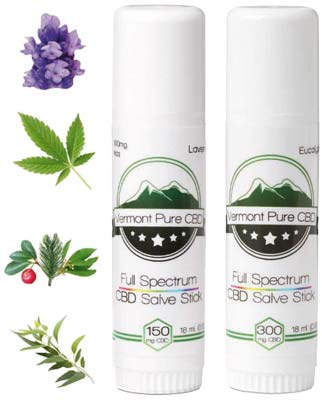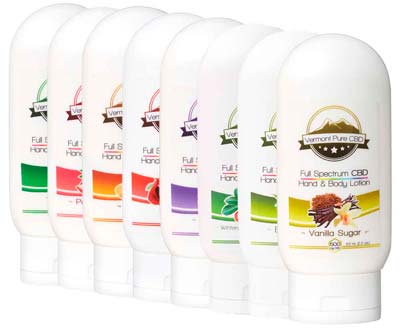 Base Ingredients:
Our Full Spectrum active CBD oil
Water
Sweet Almond Oil
Shea Butter
Vegetable Glycerin
Stearic Acid
Cetearyl Alcohol
Polysorbate 60
Lactobacillus Ferment (natural preservative & antimicrobial)
Fragrance – in scented options
Our wide array of CBD Hand & Body Lotions go on smooth and sink in fast! We compound ingredients together in our lab to create a limited ingredient, phthalate free, quick absorbing and non-greasy lotion.
Our 1.1 ounce Lotion containing 250mg of Full Spectrum CBD oil comes in an airless bottle with a pump applicator top. Each pump dispenses .3cc of lotion (about the size of a pea) which will contain approximately 2.5mg CBD.
Shop our lotions here
Eight scent options available:
Natural (unscented)
Lavender
Wintergreen, Camphor, Pine (WCP)
Apricot
Eucalyptus
Pomegranate
Vanilla
Rose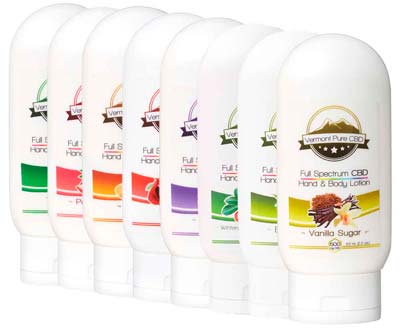 Base Ingredients:
Our Full Spectrum active CBD oil
Water
Sweet Almond Oil
Shea Butter
Vegetable Glycerin
Stearic Acid
Cetearyl Alcohol
Polysorbate 60
Lactobacillus Ferment (natural preservative & antimicrobial)
Fragrance – in scented options
Our wide array of CBD Hand & Body Lotions go on smooth and sink in fast! We compound ingredients together in our lab to create a limited ingredient, phthalate free, quick absorbing and non-greasy lotion.
Our 1.1 ounce Lotion containing 250mg of Full Spectrum CBD oil comes in an airless bottle with a pump applicator top. Each pump dispenses .3cc of lotion (about the size of a pea) which will contain approximately 2.5mg CBD.
Eight scent options available:
Natural (unscented)
Lavender
Wintergreen, Camphor, Pine (WCP)
Apricot
Eucalyptus
Pomegranate
Vanilla
Rose
Base Ingredients:
Our Full Spectrum active CBD oil
Local Beeswax
Refined Shea Butter
MCT Oil
Correlating Flavor
Treat and protect your lips with the best True Full Spectrum CBD Lip Balm in seven wonderful flavors. Our CBD Lip Balms are a superbly balanced, and include local Vermont beeswax, shea butter, MCT oil, and our True Full Spectrum CBD oil. With the combination of these simple, all-natural ingredients, we provide a nourishing, moisturizing, and protective lip balm that can be used all year round.


Seven flavor options available:
Natural (unflavored)
Blueberry
Strawberry/Cheesecake
Cherry
Chocolate
Vanilla
Lemon
Your bathtub is now the ultimate oasis of relaxation with the addition of our Full Spectrum CBD Bath Bombs. Crafted with our expected attention, each scent we offer provides a different experience altogether.
These fizzy wonders measure 2 1/4" in diameter and 4 ounces each and individually shrink wrapped and nestled into a protective clear display for increased shelf life. They are available in 4 different CBD concentrations, 30mg, 60mg, 100mg and 200mg CBD strengths. Each strength is available in 5 great scents, plus an unscented Natural option! As with all our products we source each ingredient individually and according to our high standards to ensure an experience worthy of relaxation. We don't use any preservatives, unnecessary ingredients or dyes to keep them as natural as possible.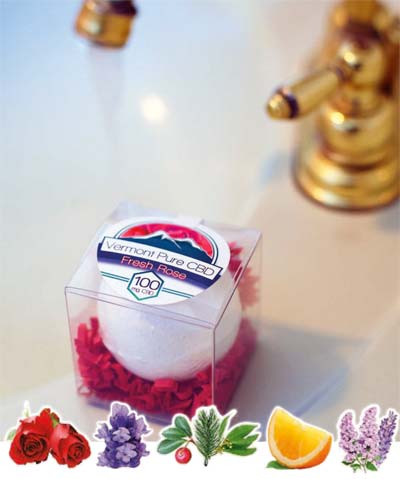 Base Ingredients:
Our Full-Spectrum active CBD oil
Baking Soda
Citric Acid
Epsom Salt
Grapeseed Oil
Correlating Flavor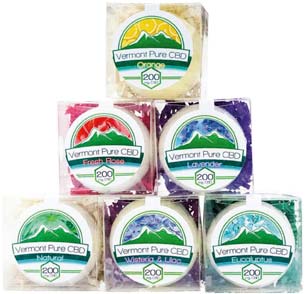 Five scent options available:
Natural (unscented)
Lavender
Eucalyptus
Wintergreen, Camphor, Pine (WCP)
Rose
Orange
Slip a Roll-On in a pocket or a purse and use it wherever you travel. Our CBD Roll-Ons provide a convenient way to take your favorite topical on the go without fear of leaking. To make our CBD Roll-On, we blend our True Full-Spectrum active CBD oil and MCT oil into a formula that allows the CBD to be easily absorbed directly into the skin. Our Roll-On also includes fragrant essential oils for a pleasant sensory experience.
Four scent options available:
Natural (unscented)
Lavender
Eucalyptus
Wintergreen, Camphor, Pine (WCP)
Base Ingredients:
Our Full Spectrum active CBD oil
MCT Oil
Correlating Flavor
Scent Ingredients:
Pure Lavender Essential Oil
Pure Eucalyptus Essential Oil
Pure Wintergreen Essential Oil
Pure Camphor Essential Oil
Pure Pine Essential Oil
Pure Lemon Essential Oil
Pure Lemongrass Essential Oil
Coconut scent
Customers love our all natural CBD infused Massage Oil knowing it enhances the relaxing and therapeutic value of their massage. Each of our massage oil bottles feature a convenient treatment pump so the oil can be easily applied without messes or spills. Our Massage Oil comes in three fragrance options.
Base Ingredients:
Our Full Spectrum active CBD oil
Grapeseed Oil
Scent Ingredients:
Pure Lavender Essential Oil
Pure Eucalyptus Essential Oil
Pure Wintergreen Essential Oil
Pure Camphor Essential Oil
Pure Pine Essential Oil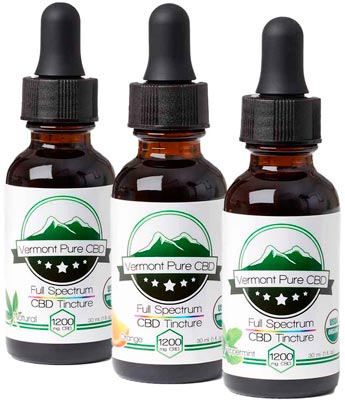 Our USDA Certified Organic CBD Tinctures are available in a wide variety of sizes and flavors. Every tincture is handcrafted in small batch quantities using our own USDA Certified Organic CBD Hemp extract and MCT Oil. Other extraction methods can pull an unnecessary amount waxes and chlorophyll from the hemp plant resulting in an undesirable bitter taste in their tinctures. Our Natural Tincture, however, includes the widest array of hemp compounds without the bitterness. Our Orange and Peppermint blends allow for a more flavorful option, complementing and enhancing the experience of taking CBD.
Shop our tinctures here
Three flavor options available:
Natural (Hemp) flavor
Orange
Peppermint
Available in the following concentrations:
1/3oz. – 100 mg CBD
1oz. – 300 mg CBD
1oz. – 600 mg CBD
1oz – 1200 mg CBD
1oz. – 1800 mg CBD
2oz – 2400 mg CBD
2oz. – 3600 mg CBD
Ingredients:
Our Full Spectrum active CBD oil
MCT Oil
Flavored tinctures also contain USDA Certified Organic oil extract (ie. Orange, Peppermint) in Organic Sunflower Oil
Why Use MCT Oil?
MCT, or Medium-Chain Triglycerides, are fatty acids fractionated from raw coconut oil by applying heat. MCT oil is often used in the health industry for its many benefits, including promoting weight loss, reducing lactic buildup, fighting bacterial and yeast growth, and maintaining blood sugar levels. Topical applications are also known to produce anti-inflammatory, anti-bacterial, antioxidant, and skin barrier repair effects. Used in CBD products they have many positive effects including increased absorption (bioavailability), and increased shelf stability.
Our all natural CBD Capsules have become a staple for so many CBD users. CBD Capsules are convenient and provide precise doses every time. The CBD oil in our capsules features all the cannabinoids, terpenes and flavonoids of the hemp plant blended with organic MCT oil. MCT oil allows for easier digestion and increased CBD bio-availability. Packaged inside an easy-to-swallow capsule made of cellulose and water, this product is guaranteed Vegetarian and Gluten-free!
Take a look at our capsule options here
Ingredients:
Our Full Spectrum active CBD oil
MCT (Fractionated coconut oil)
Vegetarian capsules
Our capsules are available in the following concentrations and quantities:

15mg CBD – 30ct
15mg CBD – 60ct
15mg CBD – 90ct
25mg CBD – 30ct
25mg CBD – 60ct
25mg CBD – 90ct
35mg CBD – 30ct
35mg CBD – 60ct
35mg CBD – 90ct
50mg CBD – 30ct
50mg CBD – 60ct
50mg CBD – 90ct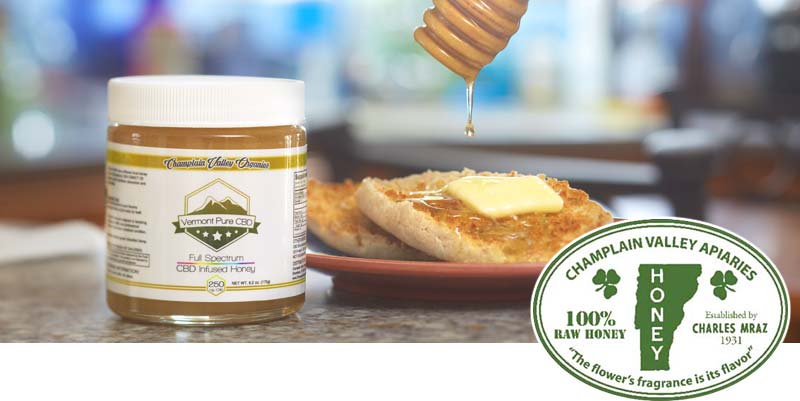 Sure to brighten your day, our True Full Spectrum CBD Raw Honey is an essential companion for tea, coffee, toast, baked goods and mixed drinks. Raw Honey itself has so many documented health benefits that it was an obvious pairing for a CBD product. Our local partner Champlain Valley Apiaries produces the raw honey that is then infused with our Vermont farm grown and extracted Full Spectrum CBD oil, combination of which is a palatable sweet treat for all occasions.
Order here
Available in the following concentrations:
6.2oz. – 250mg CBD
6.2oz. – 500mg CBD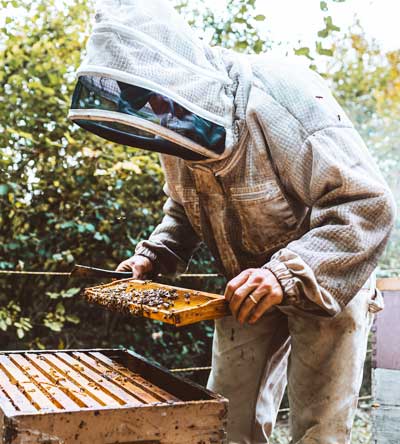 Champlain Valley Apiaries was a natural choice for a collaboration. Chaz Mraz is a third generation bee keeper. His family has been raising bees for over 85 years. They supply the local beeswax that we use in our topical products and the raw unfiltered honey for our CBD Honey. Supporting local, family- owned, quality companies like Champlain Valley Apiaries is important to us at Vermont Pure CBD. Strengthening the community and encouraging responsible products is part of our philosophy.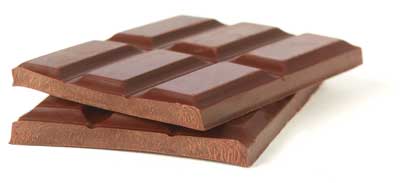 * Produced in a facilities that uses peanuts, tree-nuts, eggs, soy, gluten & dairy *

Dark Chocolate
Fair Trade Certified cacao beans and cocoa butter provide the base for this delectable dark chocolate treat. When combined with our Full Spectrum CBD oil the chocolate is taken to the next level of indulgence. The Dark Chocolate is created for us by Daily Chocolate in Vergennes Vermont using our USDA Certified Organic CBD extract, and hand made in small batches so you can be fully confident that we're providing the freshest product to you. Each 72% Dark Chocolate bar contains a total of 120mg of our CBD oil. There are 12, 10mg. sections that are easily broken for a serving size dose.
Milk Chocolate
We've teamed up with another fine local Vermont chocolate maker Farmhouse Chocolates in Bristol Vermont to bring you our second CBD chocolate offering. These CBD Chocolate Bars are 38% Milk Chocolate. Each Milk Chocolate bar contains a total of 120mg of our CBD oil – there are 12, 10mg. sections for your ease of dosing.

When dosing animals it is important to take into consideration that pets have a endocannabinoid system that is even more sensitive than that of humans. Because of this sensitivity, always start with a lower dose of CBD and increase as appropriate.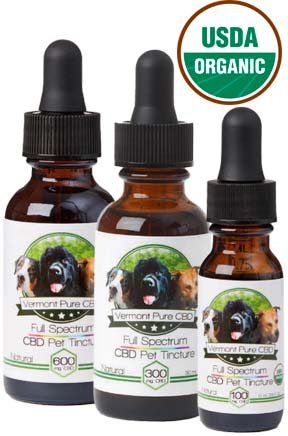 Our USDA Certified Organic Pet Tincture is available two concentrations, 100mg/300mg, and 600mg. Ingredients simply include our Full Spectrum active CBD Oil and fractionated coconut oil. The applicator has graduation lines on the dropper to facilitate accurate dosing.
Available in the following concentrations:
1/3oz. – 100 mg CBD
1oz. – 300 mg CBD
1oz. – 600 mg CBD
Ingredients:
Our Full Spectrum active CBD oil
MCT Oil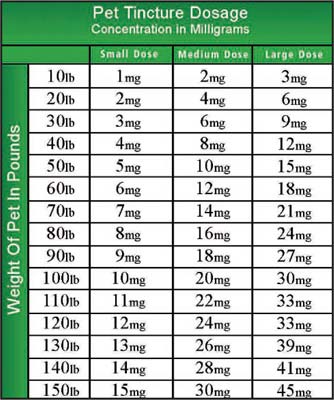 Our biscuits may be the easiest product to administer to dogs as they gobble them right down!
Shop our Pet Products
Each biscuit contains approximately 5mg of our Full Spectrum CBD and is made right here in Vermont using all organic ingredients. The biscuits come in a recyclable stand-up pouch with a zip-lock top. (Approximately 38- 40 biscuits per 8 oz. bag)
Available in the following flavors: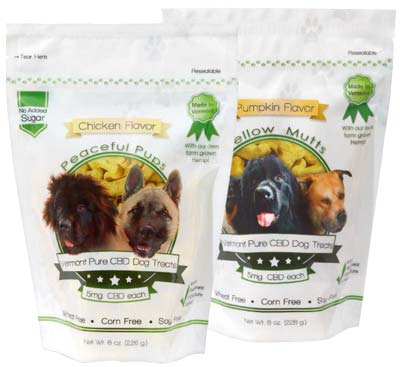 We donate our CBD Pet Products to local animal shelters in support of animals in need of good homes
Information and Education
CBD is an abbreviation for Cannabidiol, a naturally occurring, non-psychoactive cannabinoid found in the cannabis plant. Cannabinoids are a group of chemical compounds that are most commonly found in, but not exclusive to, cannabis. By stimulating the endocannabinoid system, CBD can promote homeostasis in the body.
The term CBD has now become a term widely used in the industry, referring to anything that contains CBD as the active ingredient. Despite its long history of use there are few scientific studies conducted on the effects of CBD. But the popular consensus is that CBD is effective, and the popularity of this compound continues to grow through word of mouth.
The cannabis plant produces a wide range of compounds. Over 120 different cannabinoids have been identified in this plant, with many more still to be discovered. The major compounds include: CBD, THC, CBC and CBG, each of which has useful applications. Products that contain a wide range of compounds in addition to CBD are known to have greater therapeutic effects than products that contain just CBD Isolate. This is known as the "Entourage Effect".
The difference between "Marijuana" and "Hemp" is rooted in its historical use and legal definitions. All hemp is cannabis and when grown pursuant to proper license, and with less than 0.3% THC, is designated Industrial Hemp by Federal Statute and is legal in the United States. Cannabis is in the family Cannabaceae and has three sub-species that are now formally recognized: Cannabis Sativa .L, Cannabis Indica, and Cannabis Ruderalis. It is from these three species that 99% of all Hemp and Marijuana varieties are derived. It is the hybridization and breeding of these strains that create the diversity in this plant. CBD is produced in the greatest concentrations during the flowering stages of the plant's life. CBD is produced predominantly on the Trichomes and plant hairs on the exterior of the plant. These structures contain the majority of the oil and compounds extracted for Full-Spectrum products.
How CBD Works in the Body
The endocannabinoid system (ECS) is a biological system composed of endocannabinoids (cannabinoids produced by the body) and the receptors they bind to, cannabinoid receptor type 1 (CB1) and cannabinoid receptor type 2 (CB2). All mammals possess an endocannabinoid system which regulates bodily functions such as sleep, appetite, immune system responses, hormone production and mood. In addition to being produced endogenously by the endocannabinoid system, cannabinoids have also been found in other botanical sources, including hops and varieties of Echinacea. However, cannabis contains the highest concentration of cannabanoids of any plant. At least 120 cannabinoids have been isolated from cannabis and characterized, with two of the most notable ones being cannabidiol (CBD) and tetrahydrocannabinol (THC).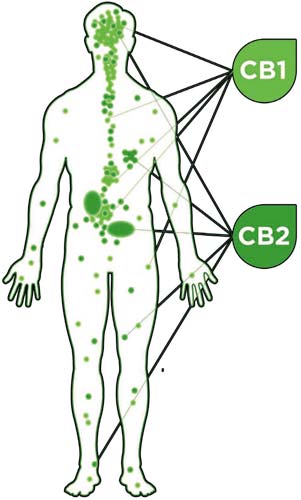 When CBD is referred to as Full-Spectrum, it means that the CBD product contains all the cannabinoids, terpenoids and other compounds found in the cannabis plant. A full spectrum product produces an effect on the endocannabinoid system that is much more robust than that of products which contain a smaller range of plant compounds. This is the so called "entourage effect" which refers to the synergy of pharmacological effects which occur through the interaction between cannabinoids and the other compounds found in cannabis, such as chlorophyll, waxes and especially terpenoids. These interactions make the product far more effective than products containing only CBD Isolate.
Dosage can range according to body weight, tolerance, and condition. The recommendation is to start with a small dose and work your way up until you find a therapeutic level that works for you. CBD can affect the action of certain liver enzymes. Always consult your doctor about potential medication interactions.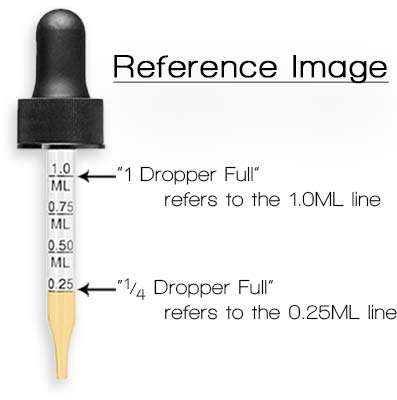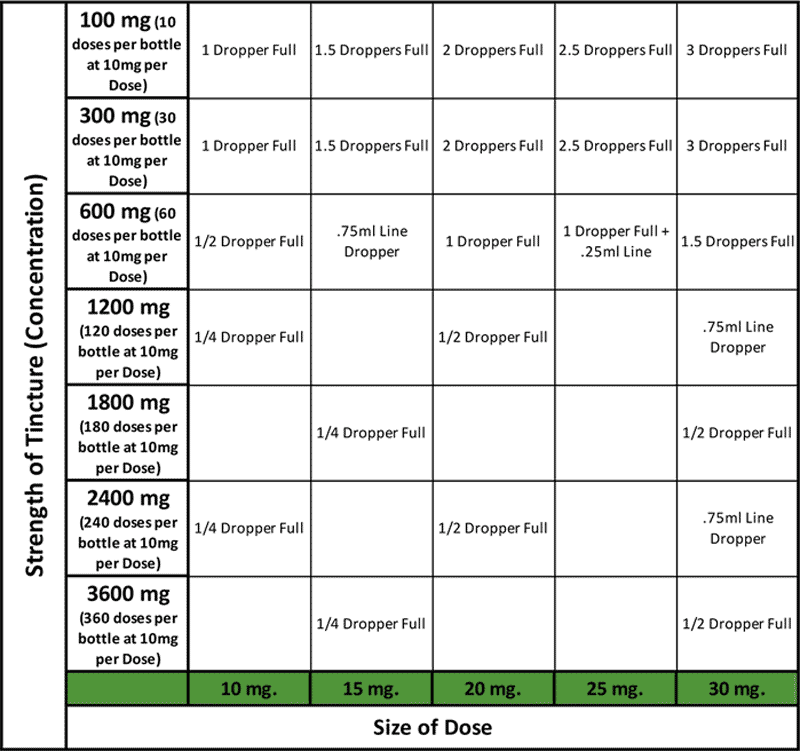 Cannabis is believed to have evolved on the steppes of Central Asia, specifically in the regions that are now Mongolia and southern Siberia. The use of this plant dates back 12,000 years, which places the plant among humanity's oldest cultivated crop. The first recorded medicinal use dates to 4,000 B.C. in ancient China where the herb was used for an anesthetic during surgery. Coastal farmers brought cannabis to Korea around 2,000 B.C. and it spread into India. The Arathaveda during this period states: "We tell of the five kingdoms of herbs headed by Soma; may it and kuca grass, and bhanga and barley, and the herb sana (cannabis) release us from anxiety." From there, Germanic tribes brought the drug into Germany, and into Britain during the 5th century with the Anglo-Saxon invasions. Over the next several centuries, cannabis migrated to various regions of the world, traveling through Africa, reaching South America in the 19th century, and eventually reaching North America.
Cannabis finally made its way into the southern United States with immigrants fleeing during the Mexican Revolution at the beginning of the 20th century. In A Historical Geography of Cannabis, Barney Warf writes, "Many early prejudices against marijuana were thinly veiled racist fears of its smokers, often promulgated by reactionary newspapers, Mexicans were frequently blamed for smoking marijuana, property crimes, seducing children and engaging in murderous sprees." Domestic production flourished until after the Civil War, when imports and other domestic materials replaced hemp for many purposes. In the late nineteenth century, marijuana became a popular ingredient in many medicinal products and was sold openly in public pharmacies. It was so important in fact, that in 1619, Virginia passed a law requiring hemp to be grown on every farm in the colony. In 1915, Utah was the first state to outlaw cannabis use. By 1931 28 more states followed suit. In 1930, Harry Aslinger became the first commissioner of the Federal Bureau of Narcotics (FBN) and undertook multiple efforts to make marijuana illegal in all states. In 1937, the Marijuana Tax Act put cannabis under the regulation of the Drug Enforcement Agency, criminalizing possession of the plant throughout the country.
Concern about the rising use of marijuana and questionable research linking its use with crime and other social problems at this time created pressure on the federal government to take action. Rather than promoting federal legislation, the Federal Bureau of Narcotics strongly encouraged state governments to accept responsibility for control of the problem by adopting the Uniform State Narcotic Act. The Propaganda film "Reefer Madness" attempted to teach parents the about the dangers of cannabis use and defined the era.
During World War II, imports of hemp and other materials crucial for producing marine cordage, parachutes and other military necessities became scarce. In response the U.S. Department of Agriculture launched its "Hemp for Victory" program, encouraging farmers to plant hemp by giving out seeds and granting draft deferments to those who would stay home and grow hemp. By 1943, American farmers registered in the program harvested 375,000 acres of hemp for textiles.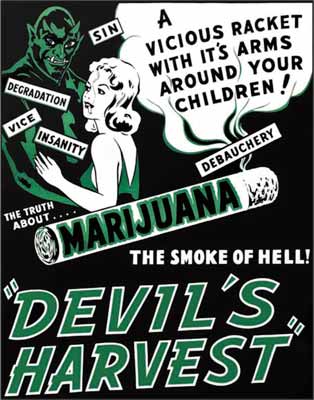 At this time, after twelve years of research, Henry Ford in 1941 presented a groundbreaking invention: his hemp fueled and hemp cellulose- plastic prototype car. The panels composed of 70% cellulose hemp fibers proved to have the impact strength 10 times stronger than steel. The car was to run on hemp-ethanol.
"The experimental model is pictured as a step toward materialization of Henry Ford's belief that some day he would 'grow automobiles from the soil.'"
– Popular Mechanics, December 1941
The first discovery of an individual cannabinoid was made when British chemist Robert S. Cahn reported the partial structure of Cannabinol (CBN) in 1940. Two years later, American chemist, Roger Adams, made history when he successfully isolated the first cannabinoid, Cannabidiol (CBD). His research also later led him to discover Tetrahydrocannabinol (THC). Later, Dr. Raphael Mechoulam made the first breakthrough towards understanding the effects of individual cannabinoids. In 1963, he successfully identified the stereochemistry of CBD and discovered that CBD was not a psychoactive compound. In a little publicized study by Dr. Mechoulam conducted in the 1980s, eight subjects were administered daily doses of 300mg of CBD. After just four months of treatment, half of the subjects stopped having seizures. Less than a decade later, interest in the therapeutic applications of cannabinoids revealed the discovery of additional cannabinoids, further understanding of cannabinoid structure, and the amazing breakthrough of our body's Endocannabinoid System (ECS) — a network of receptors that interact with the ligands found in cannabinoids.
The Hemp Farming Act of 2018 removed Industrial Hemp (defined as cannabis grown with an appropriate license and with less than 0.3% THC) from Schedule I of the Controlled Substances Act, making it an ordinary agricultural commodity.

The cannabis plant is amazing in the fact that it is both dioecious and hermaphroditic in its expressions.
Hermaphroditic (perfect flowers) refers to an individual plant possessing both male and female reproductive structures within the SAME flower structure (about 95% of plant species). Common examples include tomatoes, peppers, sunflowers.
Monoecious refers to a hermaphroditic plant, with male and female reproductive structures are on SEPARATE parts of the individual plant, such as squash, cucumbers, and corn.
Dioecious means that an individual plant is either only male or only female (only about 5% of all plant species). Examples include asparagus, ginkgo trees, and holly.
In the cannabis family males and females are inherently separate plants. Reproduction requires the pollination from one male plant to a female plant to create seeds. However there are populations or environmental conditions in which the female plant also produces male flowers, we call these plants hermaphroditic. In this case, the self-pollinating hermaphrodite almost always creates a feminized seed, and therefore the seed will grow into a female plant. Hermaphrodites are often induced by stressful conditions or in the absence of male plants; in order to save its lineage the female plant will also produce male flowers, thus being able to self pollinate. In the cannabis industry hermaphrodites are often culled and discarded as the goal is to encourage as much female flower growth as possible.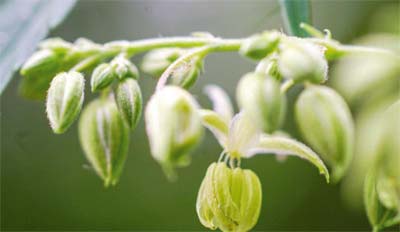 Male cannabis flowers shedding pollen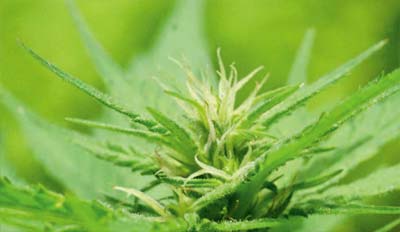 Female cannabis flowers with receptive stigmas
Cannabis sex organs (flowers)
Male flowers contain stamens that contain the pollen. The pollen is so small (25 micrometers wide) that it is able to catch the wind and travel great distances to pollinate female plants.
Female plants have a pistillate flower that contains two stigmas which receive the male pollen. Once received the pollen then travels down the style to the ovary where the ovule begins to develop. Each pistillate contains only one ovule and thus produces only one seed. The bract forms a seed pod sheath that protects the growing seed.
Inflorescence (cola)
A cola is a cluster of flowers/buds that form at the ends of cannabis branches. Smaller buds also form on the budding sites on the lower branches.
Stems and Branches
The stem/branch structure of cannabis is both its vascular and structural system. It supports the weight of the plant. In addition it acts as the transportation highway for nutrients, sugars and water to travel throughout the entire plant via the xylem and phloem vascular systems.
Leaves and Petioles
Leaves of the cannabis plant are palmately compound, meaning that they produce from three to thirteen "finger leaves" separate from each other but still originate from the same petiole. The petiole connects the leaves to the stem or branch.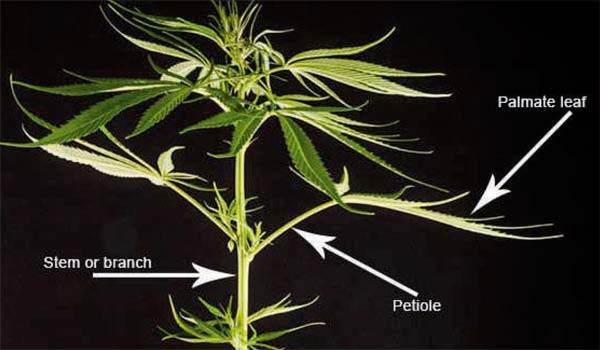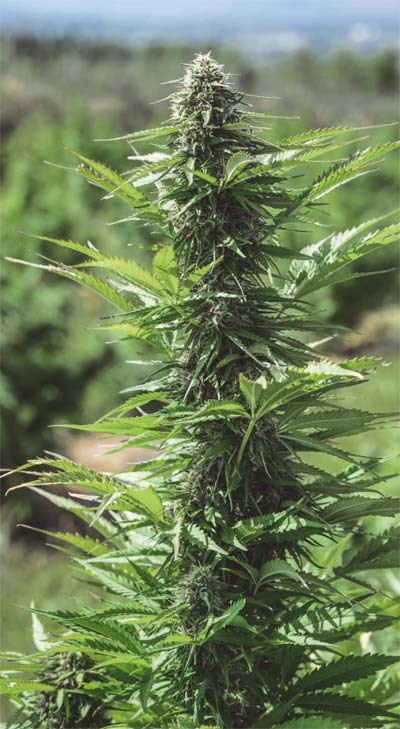 Cannabis Flower (female)
Female cannabis buds are often referred to as "flower" and contain pistillate buds in mass covered in trichomes and plant hairs. There are six different kinds of trichomes – three glandular and three non-glandular. Large cystolith hairs are the most visible of the non-glandular. These needle-like hairs cover the entirety of the above-ground portion of the plant, protecting it from insects and making it less palatable to herbivores (but apparently not deer, haha). Smaller cystolith hairs also cover the exterior. Together these hairs regulate temperature, reflect radiation and reduce water loss.
Glandular trichome structures contain the majority of the plant's essential oils, CBD, THC, Terpenes etc. The total cannabinoid content can consist of up to 30% of the total weight of the flower. The three types of glandular trichomes are bulbous, capitate-sessile, and capitate stalked.
Closeup of glandular & non-glandular cannabis trichomes
What are Phytocannabinoids?
Unlike Endocannabinoids which are produced naturally in our own bodies, phytocannibinoids are produced in plants and are similar in structure which allows them to bond naturally with our endocannabinoid system. Terpenes interact with cannabinoids to alter their effects, often increasing their potency. Because there are over 500 identified compounds in the cannabis plant continued research is needed to catalog the complex effects that these cannabinoids can have on the user's experience.
Read more about Hemp-Cannabis compounds in our blog post.
THC
Tetrahydrocannabinol is the most well known of the cannabinoids due to its long term cultural use and its psychoactive and intoxicating use in humans. Its popularity has also been reinforced through selective breeding in the black market prior to legalization. THC mostly effects CB1 Receptors and passes the blood-brain barrier effecting motor activity, coordination, thinking, appetite, short term memory, pain perception and immune cells.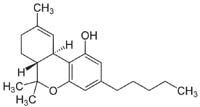 THC is used medicinally primarily for pain relief. Studies have shown that its pain relieving properties exceed that of Advil by twenty times, and by twice that of cortisol. Much of the challenge with THC comes with its side effects. Its psychoactive effect can cause paranoia or anxiety in certain patients. However, the practice of pairing medical cannabis with CBD, for example, may reduce its intoxicating side effects.
CBD
Cannabidiol is surfacing as the second most popular cannabinoid due to its non-intoxicating nature and high concentration in compliant hemp strains. Other lesser known cannabinoids include CBG, CBN, CBC, CBDV, and THCV.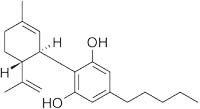 Although these compounds tend to create similar type effects as CBD their minute differences in chemical structure create very subtle differences in how they effect physiology.
What are Flavonoids?
Flavonoids are a class of compounds found in almost all plants that are known to regulate cellular activity and fight free radicals in the body (anti-oxidants). Like terpenes, Flavonoids are not exclusive to cannabis, they also occur naturally in flowers, fruits, and vegetables. However there are specific flavonoids that are only found in cannabis. These are known as cannaflavens. In nature one of the primary functions of flavonoids is pigmentation in plants, specifically flowers for the purpose of attracting pollinators. It is this quality that gives cannabis its wide variability in color. Purple coloration in cannabis for instance is attributed to anthocyanidins and anthocyanins, which are also found generously in many fruits and vegetables. The orange color of carrots and the red color of tomatoes are attributable to the flavonoids beta-carotene and lycopene respectively. We often attribute terpenes with creating the distinguishing qualities of cannabis varieties, however, flavonoids play a large part in both odor and flavor too.
What are Terpenes?
Terpenoids from a technical perspective are a class of plant molecules composed from groups of 5-carbon compound base units called isoprene. It is from these isoprene unit combinations which the vast diversity of terpenes are synthesized by the plant. Terpenes are extremely light compounds responsible for the primary odor/scent of many plants. They are so delicate in fact, that they are constantly floating off and away from the plants surface, and thus we are able to detect them as an odor.
Our ethanol extraction process is the most comprehensive and optimal method to recover both the greatest and diverse amount of terpenoids (as well as flavonoids) from the hemp plant. This is why we have a True Full Spectrum CBD Oil that we use for all our products. This isn't achievable to any significant degree with CO2 or Lipid extraction. Read more about extraction in our blog post.

Geraniol is most often associated with floral and fruit smells. Rose oil, Geraniums, Palmarosa, and citronella all contain high concentrations of Geraniol. This terpene boasts antioxidant, anti- microbial, and anti-inflammatory properties and can be used as a pesticide and a bug repellent.
Humulene, most prevalent in hops, give beer its bitter, earthy and spicy notes. Studies show that it plays a role in regulating our appetites as well as having antibacterial qualities that may be useful in fighting growth in tumors.
Limonene is a very appealing scent most common in fresh citrus fruit. It is a common additive to food, candles, and detergents. It has been shown that Limonene plays a roll in regulating our mood and can be uplifting.
Linalool is very common in cannabis and is very pungent. It has been associated with fighting anxiety and depression, and can induce sedative and relaxing sensations. Beyond that it has also been shown to reduce the cognitive impairment and memory loss associated with Alzheimer's Disease.
Myrcene is the most commonly known terpene in the cannabis plant. It is said to be responsible for the tranquilizing effect known in Indica dominant strains. It imparts anti-inflammatory and analgesic (pain reliving) qualities and has a very earthy smell and flavor. Myrcene occurs most commonly in mangoes.
Alpha and Beta Pinine are the most commonly occurring terpenes on earth. Outside cannabis they can be found in pine trees, orange peels, and herbs like basil and rosemary. Pinene has been shown to be a bronchodilator useful in combating respiratory conditions such as asthma or allergies as it helps open the bronchial pathways in the lungs and nasal cavities.
Growing, Harvest, and Processing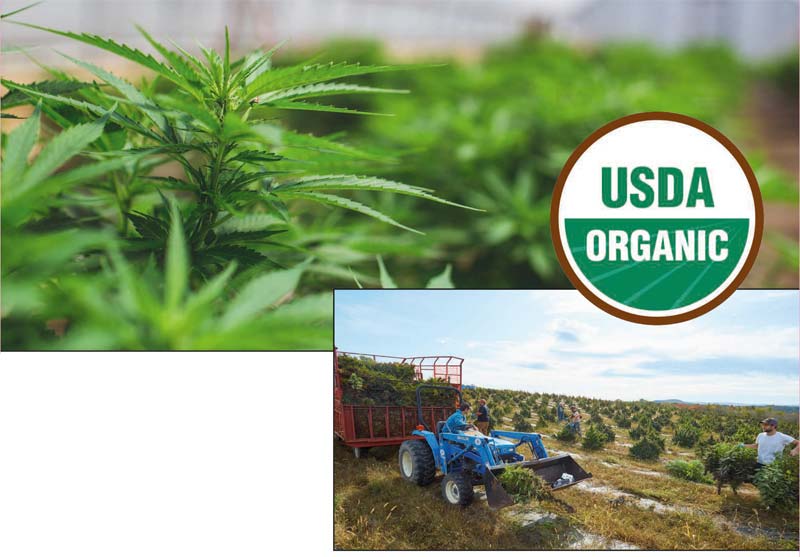 Healthy Vermont soil, sustainable growing processes, and a commitment to quality enable us to produce products we can stand behind.
Our farm's USDA organic certification reflects our commitment to sustainable farming and ethical products. Hemp is very efficient at accumulating heavy metals and toxins from the soil, so our organic practices are a must. Our rigorous testing policies ensure we meet regulations as well as our own high standards as an ethical producer.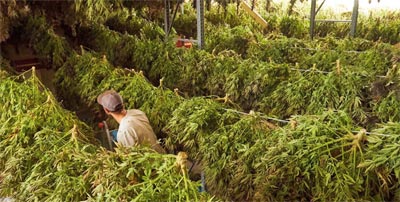 During the growing season we carefully monitor and encourage our crop with organic fertilizer. We also utilize cover crops to build our soil, avoid erosion, and encourage the biodiversity of beneficial organisms. Our Lakeside Valley climate and early harvesting varieties allow us to avoid pests and molds often associated with growing cannabis flower. At harvest time plants are transported and immediately hung to dry. Drying and processing especially effects the quality of the CBD. Forced hot air methods for drying can destroy compounds that are essential elements in CBD products. Terpenes are especially volatile in this case. Under controlled conditions, hang-drying and slowly curing are the best approach for preserving the quality of the product. Removing flower material from the stem is the essential last step. This process is referred to as bucking and is one of the more labor intensive processes on the farm because we choose to do it by hand. In contrast, companies that process hemp using heavy machinery or automated systems run the risk of contamination in their CBD product. Bucking by hand allows us to closely monitor our material by eye for quality assurance. This biomass is stored in a cool dry place until it extracted.
Crude, Distillate, and Isolate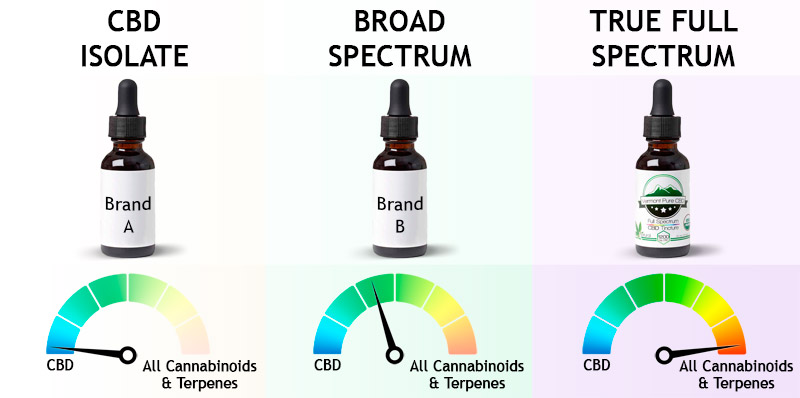 The extraction method used to produce CBD products determines their quality. As CBD is the central ingredient in our products, we take every measure to ensure that it is produced in the best way possible. It is for this reason that we chose to use ethanol extraction.
Food Grade Alcohol Extraction allows for recovery of the widest range of cannabinoids and terpenoids and is considered the safest method to extract for human consumption. The result is a True Full Spectrum crude oil. Other extraction methods, such as CO2, butane, or lipid extraction, cannot extract as wide a range of compounds as alcohol extraction and are considered a Broad Spectrum oil. These processes can also be prone to contamination or leave residual, and potentially toxic chemicals. Short path distillation further processes crude oil to remove heavier compounds such as waxes and lipids from crude oil. This makes the base oil for products more palatable. The result is called Distillate. Distillate is a wax and chlorophyll free product, and is considered Broad Spectrum. Further processing of CBD oil removes all compounds except for the CBD molecule. The result is CBD Isolate. CBD isolate is a great option for those that may be drug tested, as it contains no THC or other compounds. However, the lack of the other compounds also renders the CBD less bio-available and therefore less effective.
Read our blog post on extraction methods for more details.

Read our blog post for more info about Full Spectrum & Isolate CBD.