New!
USDA Certified Organic
Premium CBD Hemp Flower
Grown right here on our farm!
Why Choose Vermont Pure CBD?
Why Choose Vermont Pure CBD?
Free product sample with any order above $50!
There will be 3 tiers of redemption:
You can choose your sample on the cart page when you're ready to checkout
Orders $50 - $74 - Chocolate sample
Orders $75 - $149 - Choose any sample
Orders $150 and up choose any 2 samples of your liking
Unlike many CBD companies Vermont Pure CBD maintains complete control of the entire production process. From soil to oil, we do it all!
We select all the finest hemp seeds and grow them to maturity ourselves using strictly organic methods. After harvest, our hemp is carefully cured in our own barns and never exposed to heat or other processes that diminish the quality of the flower. We make all our products by hand ourselves, or, in the case of our dog treats and chocolate bars, in collaboration with local Vermont producers who are as devoted to artisanal quality as we are. The care we take and the methods we use sets us apart from other CBD companies that acquire hemp from who knows where and allow us to provide our customers with a premium single origin product that meets the highest standards in the industry. We test our products in-house every step of the way and provide ISO-certified third-party testing for all our products. Making a product of this quality is not easy, but Vermont Pure CBD is dedicated to creating the purest, most natural, and most effective products on the market.
Subscribe to our newsletter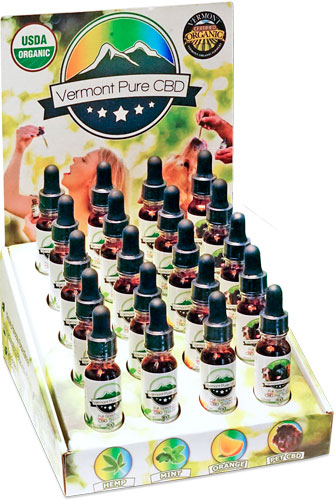 Become a Vermont Pure CBD
Wholesaler/Reseller
If you're looking to carry our line of products in your store or retail location, we'd love to hear from you! Please feel free to fill out the form here, or give us a call at 802-897-4477 and we can set you up with an account today!