How to read and understand a CBD label
For many folks the introduction of CBD into popular culture is foreign due to a lack of credited scientific study and the stigma surrounding Cannabis use. To add to the confusion the FDA has not ruled on its status and regards CBD products as generally accepted as safe. This means that it cannot be labeled as a dietary supplement and no health claims can be made about the products. The responsibility therefore falls on the CBD producers to do the proper research necessary to create a good product. If they are transparent and honest with their customers all necessary information should be displayed on their product label and available to the consumer.
All CBD products should be labeled clearly. There are however many products that may be labeled in a misleading way. Several examples might include THC products labeled in a shady manor or "hemp oil" products masquerading as CBD – hemp oil and CBD are NOT the same thing. The difference here is stark. THC is psychoactive and hemp oil, although healthy, does not provide CBD. Hemp oil comes from cold-pressing only the hemp seeds themself to release the omega-rich culinary oil within – it contains no CBD. CBD oil is procured from the hemp flower, leaves and stems, essentially everything BUT the seeds.
When approaching a new product special attention and care should be taken to investigate how the product was produced. Because CBD regulation is complex it is especially important to see how the hemp was grown, where it was grown, whether it contains any harmful heavy metals or contaminants, and what other ingredients are included in the product. Every state by now should have it's own set of labeling guidelines when it comes to CBD products. At Vermont Pure CBD we exceed all the necessary information required by the State of Vermont.
Make sure the product is a true full spectrum product. Unlike the clear grading rules used to distinguish maple syrup, there are no clear universal rules for grading CBD. The majority of CBD products that are labeled "full spectrum" are made using Critical Co2 extraction which technically is not a full spectrum extraction technique. Rather it excludes waxes, chlorophyll, and many other hemp plant compounds that contribute to the entourage effect. Click here to read our Extraction Blog. More CBD products still only include the isolated form of CBD. Isolate products are proven to be much less effective than full spectrum products. A true full spectrum product therefore can only be derived using ethanol extraction. This ensures also that essential terpenes are also included in the product and are clearly stated on the label. Click here to read our blog on Full Spectrum vs. CBD Isolate.
…At Vermont Pure CBD each detail necessary to use CBD is communicated on our label…
Let's take for example our Tincture Label:
Every Vermont Pure CBD label clearly states the amount of CBD in the whole bottle and also the volume of the bottle itself. With this information the consumer can decipher how much CBD is in a serving amount. On the upper right of the Tincture label we find exactly that, a breakdown of serving size and amount of CBD per serving. In the example of our 3600mg strength Tincture – each serving contains 60mg of CBD. Note that "serving" just refers to the amount of CBD in a full dropper, it does not indicate that you need to take that amount.
For example, if one wanted to take only 15mg from a 3600mg Tincture, they would simply fill the dropper to the 0.25ML graduation line – which would be one quarter of a "serving", or one quarter of 60mg.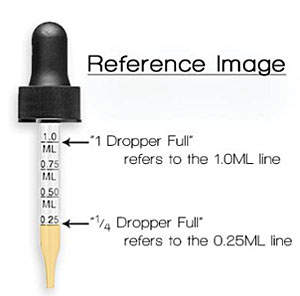 In terms of dosage everyone is going to be different. Our recommendation is always to start with a low dose and increase until you find what works for you personally. Unlike almost every other CBD company, our CBD Tinctures have a graduated dropper designated with quarter fractions of 1 milliliter (ML.). This can help guide our users to obtain a more precise dose amount, or part of a serving.
Suggested use and warnings are also displayed on our label indicating that consulting your doctor and following recommended dosage is always advised. Although CBD products status has not been ruled, it is meant to be taken responsibly.
Other ingredients are also included in our CBD products to increase the bioavailability of the hemp plant compounds and to make the Tincture more palatable. In the case of our Tincture, accompanying oil (MCT Oil) coats the hemp compounds including CBD making them more bioavailable and added natural flavorings are added, such as Certified Organic Peppermint and Orange for our flavored Tincture options.
The Organic Certification is proof of good standing. It shows that our practices are safe and responsible and that we have adopted those procedures as a measure of safety and trust for our customers. We also include when applicable that our products are indeed Non-GMO and Gluten Free for individuals who have sensitivities or are dedicated to a particular lifestyle.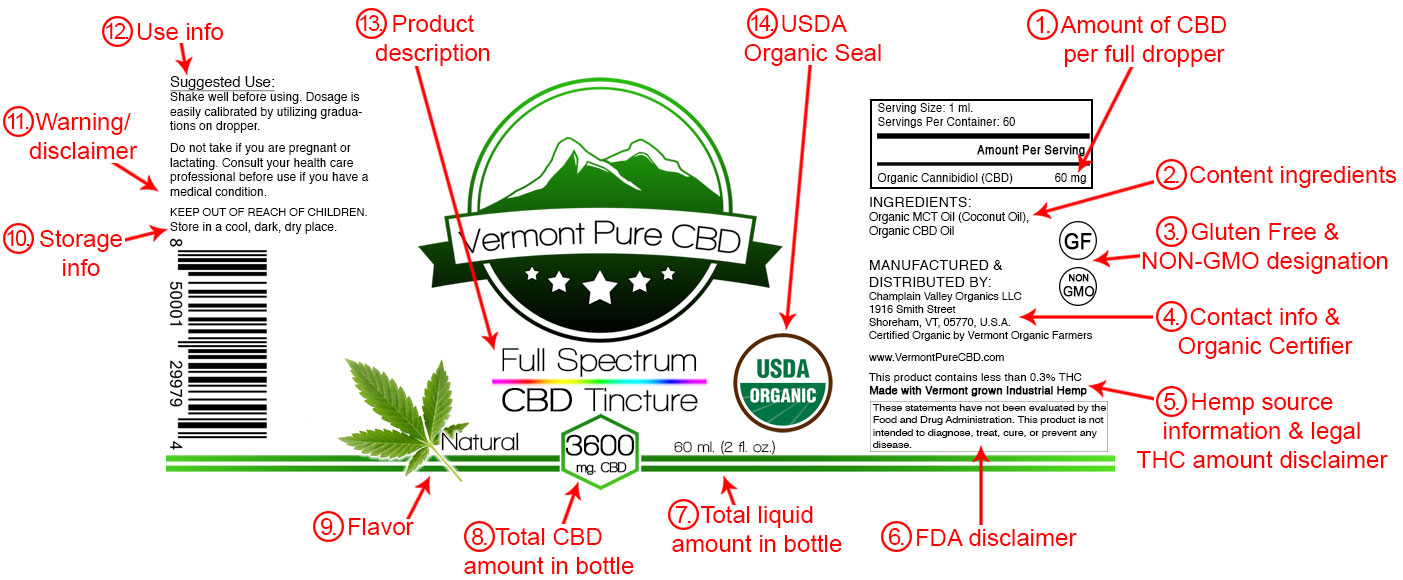 Elaborated label information – number correlates to the numbers on the above label image:
This box designates the amount of CBD in mg. that is in a full dropper or "serving" (up to the 1 ML. line). It also shows how many full droppers are in the bottle (or servings per container)
Shows exactly the only ingredients in the bottle
Gluten Free and Non-GMO symbols
Manufacturer/Producer full contact information. All USDA Certified Organic products must designate the certifying agency on the product label
Industrial Hemp and THC compliance statement
Mandatory FDA disclaimer – the same as on all vitamin labels for example
Amount of product in bottle – all of our products show amount of product in the container to the right of Total CBD Amount
Total CBD Amount designates the total amount of CBD that is in the bottle – all of our products show the total amount of CBD in the container directly below our logo, inside the green hexagon
Flavor of product (or Scent for our topical CBD products) is on the left side of our logo, either above or below
Pertinent storage information. Essentially keep out of direct sunlight, and keep caps/lids closed when not in use
Usage disclaimer
Usage information. No CBD company is legally allowed to make specific claims regarding dosage amounts or effects of products. If you see a product on the market that does, they are in direct violation of federal law. Therefore we have to be vague in this area. We can direct you on how to take a product, but not how much to take or any guarantees of its efficacy
Below our logo you'll find the description of what the product is