Description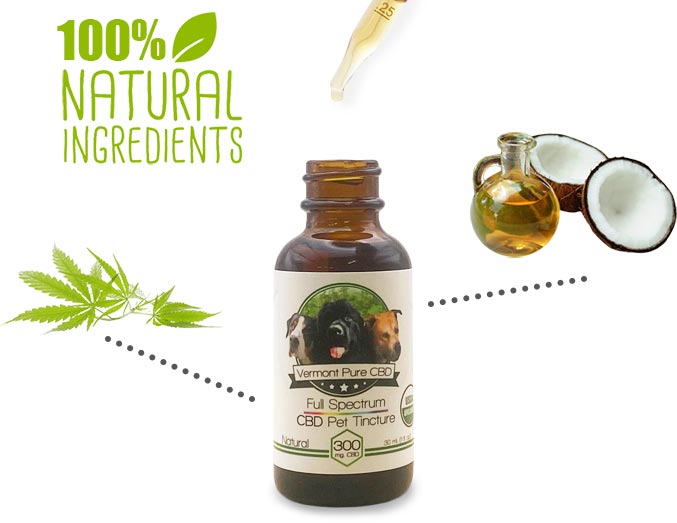 Our 300mg Pet Tincture has a natural flavor and goes under the tongue or in food or water to allow our furry friends to get the benefits of CBD.
Great for both on-the-go use, as well as at home!
Every tincture is handcrafted in-house in small batch quantities using our own USDA Certified Organic hemp ensuring the freshest possible product. We only use hemp grown with care on our farm in Shoreham, Vermont and extracted in-house in our solar powered production facility using certified organic ethanol. Ethanol extraction provides the most robust transfer possible of the hundreds of natural compounds present in the hemp flower to our extract, with no residual solvents, giving people and their pets the benefit of the complete plant with no unwanted chemicals. We then combine our full spectrum extract with organic MCT oil to create a true Full Spectrum CBD Pet Tincture. This Pet Tincture provides all the cannabinoids, terpenes and other compounds found in the plant which work together to give our pet pals the full benefit of the Entourage Effect.
Suggested use:
To get the most our of our Pet Tinctures, we suggest applying the desired amount directly atop your pets food for ease.
Effects can start to initiate as soon as 15-30 minutes after dosing.
Storage directions:
Keep out of direct sunlight. Keep lid snug when not in use. Store in a cool, dry place. Easy peasy!
Shelf Life:
Almost indefinitely, following above storage directions. Flavor will change over the years (becoming a little bitter as chlorophyll breaks down), however efficacy will not diminish.
Ingredients:
Our Full-Spectrum active USDA Certified Organic CBD oil
USDA Certified Organic MCT Oil (Fractionated coconut oil)
*This is not a drug or conventional food product and has not been evaluated by the FDA as a dietary supplement. This product is not intended to diagnose, cure, mitigate, treat, or prevent diseases in animals and/or intend to affect the structure or function of the body of an animal.
---