Description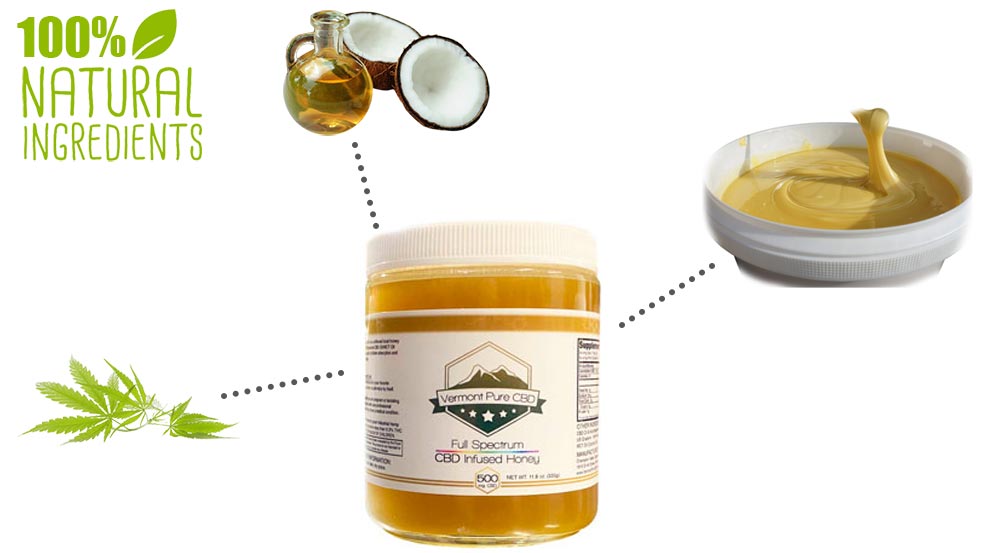 Our Full Spectrum CBD honey all starts with raw, unprocessed honey from our local partner, Champlain Valley Apiaries that is then infused with our Vermont farm grown and extracted Full Spectrum CBD oil along with a few drops of MCT oil which facilitates absorption and bio-availability.
As with all our products, our CBD honey is handcrafted in-house in small batch quantities using our own USDA Certified Organic hemp ensuring the freshest possible product. We only use hemp grown with care on our farm in Shoreham, Vermont and is extracted in-house in our solar powered production facility using certified organic ethanol. Ethanol extraction provides the most robust transfer possible of the hundreds of natural compounds present in the hemp flower to our extract, with no residual solvents, giving our customers the benefit of the complete plant with no unwanted chemicals.
As opposed to the typical golden honey found on store shelves that has been heated and filtered, which destroys many of the natural beneficial phyto-nutrients, active enzymes, antioxidants and proteins; raw honey is obtained directly from the hive and not adulterated or processed in any way. Raw honey is much more than just a sweetener. When paired with our fabulous CBD oil the experience is an effective delight.
Suggested use:
Most of our customers simply add our Honey to their preferred beverage or food. Can also be used for baked goods. Effects can start to initiate as soon as 15-30 minutes after consumption.
Storage directions:
Keep out of direct sunlight. Preferably in a cool place such as cupboard, drawer, shelf or simply just the countertop. Not necessary to refrigerate.
Always keep lid snug when not in use. Easy peasy!
Shelf Life:
Almost indefinitely, following above storage directions.
Each jar contains 11.8 ounces of Raw Honey with either 500mg or 1000mg of our CBD Oil.
The 500mg jar contains 47 teaspoon servings, each containing 11mg CBD
The 1000mg jar contains 47 teaspoon servings, each containing 22mg CBD
Ingredients:
Our Full-Spectrum active USDA Certified Organic CBD oil
Raw Honey
MCT (Fractionated coconut oil)
---