Description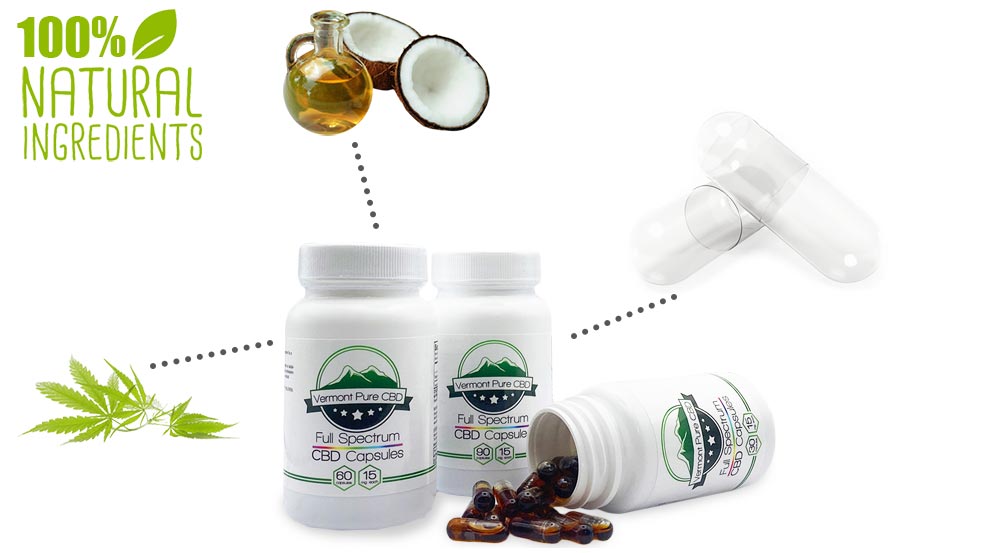 As with all our products, our capsules are handcrafted in-house in small batch quantities using our own USDA Certified Organic hemp, ensuring you know exactly where it's coming from and assuring the freshest possible product. We only use hemp grown with care on our farm in Shoreham, Vermont and is extracted on-site in our solar powered production facility using certified organic ethanol. Ethanol extraction provides the most robust transfer possible of the hundreds of natural compounds present in the hemp flower to our extract, with no residual solvents, giving our customers the benefit of the complete plant with no unwanted chemicals.
Our all natural CBD Capsules provide you ease and convenience along with precise doses every time, and have become a staple for so many CBD users. The CBD oil in our capsules features all the cannabinoids, terpenes and flavonoids of the hemp plant, but when blended with organic coconut oil becomes even easier to metabolize and digest with increased bio-availability. Packaged inside an easy-to-swallow capsule made of cellulose and water, this product is guaranteed Vegetarian and Gluten-free!
Our Full Spectrum CBD capsules are available in 15mg, 25mg, 35mg and 50mg strength and are available in bottles of 30, 60, or 90 count. Because CBD dosage is so highly individual, we recommend customers new to CBD try the lowest strength and smallest amount first (15mg – 30 count bottle) while beginning their CBD journey, but for the experienced CBD user, our higher dosages and capsule amounts provide robust strength and value.
Why Choose Capsules?
CBD capsules are a good alternative to tinctures or vapes because they allow precise dosages each time they are taken. Capsules are portable, easier to use than tinctures, and are flavorless for customers who prefer a milder experience.
These Full Spectrum CBD capsules are 15mg CBD each and are available in bottles of 30, 60, or 90 count.
Ingredients:
Our Full Spectrum active CBD oil
MCT Oil (Fractionated coconut oil)
Vegetarian capsules (made from plant cellulose & purified water)
---